SAVE SOME TIME AND ORDER ONLINE!
See What Our Customers Are Saying
We take pride in every order that comes in and goes out our doors. We create our family recipes with the finest ingredients that are cut and made fresh everyday. If you haven't experienced Siciliano's you need to stop in and see why we have been Ravenna's Favorite Pizza for over 35 years.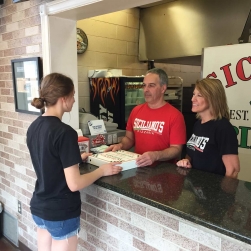 "I am not from around Ravenna but was told to stop there when I was in town and I have to tell you I am gad I did. Siciliano's pizza is my new favorite. They loaded it with toppings and my wife loved the crust, she said it tasted like her Grandmother's homemade pizza. If that's not a good testimonial, I don't know what is..."

"Every Friday we get pizza and wings from Siciliano's on the way home from work. They have the best food, our kids text us their order and off we go. Tom and the team down there are great people!"

Mongoose Motorsports